How to dress to school. This is no question for English Girls (and for our Upper-East-Side friends from Gossip Girl). Or maybe it is... When you look at Blair Waldorf! So this my firend´s and my daily clothing. I think we created two very smart outfits ...
...beginning at the bottom, we wear pumps (almost high heels) from Primark, trousers or rather a skirt (aviable in nearly every clothing store) and blouse, tie and a blazer, which make us look very smart, I think. Mixed with a coloured bag which brings some colour to the outfit ...
... but have a look on how Blair Waldorf styles her uniform in Gossip Girl ...
Even if I am not sure if this outfit is really meant to be a uniform, it inteprets perfectly the preppy-style. And I really love this picture of Blair. But sadly we can´t wear outfits like this in school ... our dresscode is too dure.
Here are some more examples for how the Gossip Girl girls style their uniforms: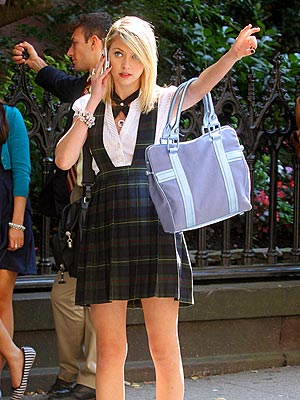 The first picture shows Jenny with a caro skirt and a pair of big braces.
This picture shows Serena in a casual uniform with a vest and Blair in a smarter and preppy uniform with a pencilskirt.
And in the last picture you can see the clique, all dressed smartly, with bow ties instead of ties (apart from serena)
by S&S